Autotask PSA – old
Visibility Across Your Entire Business
Datto's Autotask Professional Services Automation (PSA) is a powerful and intuitive cloud-based PSA platform providing a singular view of the entire business – enabling MSPs to centralize business operations and make data-driven decisions to improve service, productivity and profitability.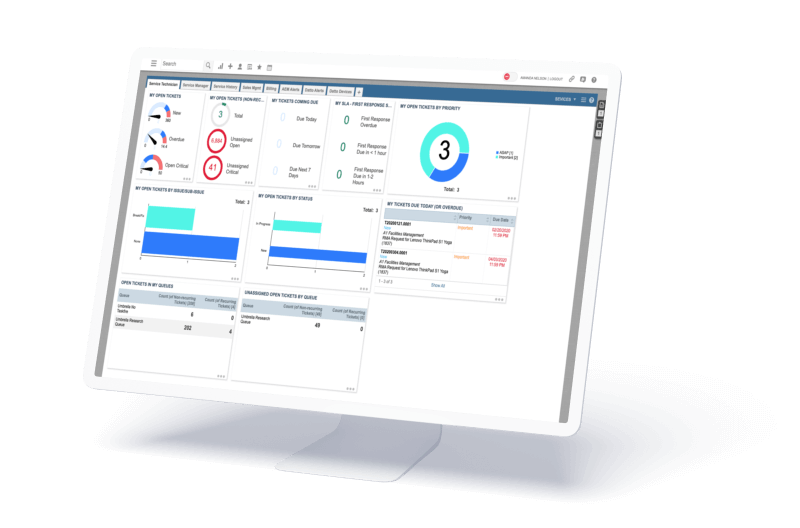 Unify People, Processes, and Data in a Single Pane of Glass
Autotask PSA allows MSPs to run all aspects of their business at peak efficiency. It combines all the mission-critical tools necessary to run a managed services business. Autotask PSA centralizes operations and provides instant understanding through customizable dashboards and widgets, enabling you to make data-driven decisions.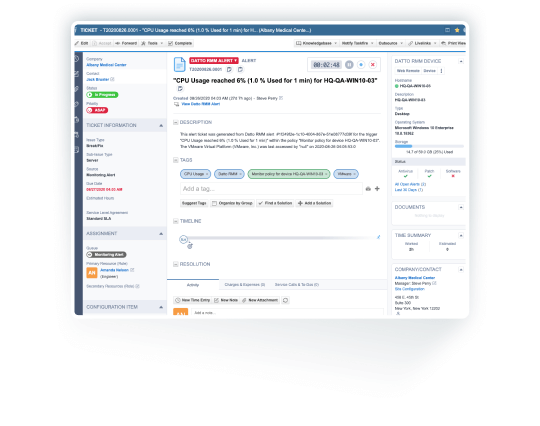 Maximize Uptime With a Secure, Cloud Platform
Autotask PSA does not require extensive testing, maintenance, or updates and has a proven track record of consistently delivering 99.99% uptime and unmatched security.
Centralize Operations to Increase Efficiency
PSA is the central hub for any MSP providing a single pane of glass view across the business and increasing efficiency through automating workflows.
Enable Data-Driven Decisions
Powerful analytics and intuitive dashboards provide actionable business insights for every role.
PSA Software Tailored to You
Open-architecture and APIs enable tight integration with 170+ industry-leading tools to maximize business efficiency.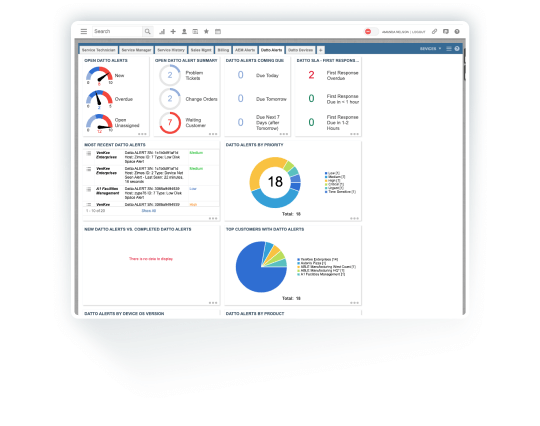 We are a premier partner of all Datto RMM and Autotask PSA services.Take your business to the next level and contact us today!
To inquire about rates, contact info@marcusnetworking.com
Actionable Intelligence and Insights for Growth
Datto has developed the leading PSA software for MSPs, and with its intuitive user interface you'll gain visual insight and instant understanding into your business. As a result, you'll be able to work faster and easier with customizable dashboards, widgets, and ticket categories for each individual PSA user.
Craft Your Ideal Client Offering With Datto
Run your MSP business efficiently and achieve next level service delivery with our integrated product suite
Centralize Operations to Increase Customer Satisfaction
The intelligent cloud-based PSA platform helps to improve efficiency and service with workflows optimized for MSPs to help resolve tickets faster — and make data-driven decisions to improve productivity and profitability.
Genuine Automation
Automate workflows by setting up event triggers to save time on every PSA ticket.
Improve Customer Response
Dashboards and widgets enable staff to take immediate action and resolve issues faster.
A PSA Platform Designed to Improve the Management of your Business
Powerful Service Desk
Resolve tickets faster and improve customer experience.
A Unified RMM-PSA experience
An intelligent, unified platform that makes service delivery more efficient.
LiveMobile App
Stay connected to your business on-the-go.
"Thank you so much for your effort on our move. Your team was timely, gracious, helpful and expedient. We were all impressed by the service we received. I am very excited to see our final results and…"
"I was very impressed with our meetings this week. Eric's presentation and vision is very exciting! I decided early on that I wanted Eric on my team. My future is in need of a great tech guy, and team…"
Staff Member, Produce Company
"Wanted you to know how great Nick (and anyone else if they helped) was to pick my computer up and get it back to me yesterday. Everything works with no problems. He fixed the problems that I was having…"
Staff Member, Dental Office
"Thank you for assisting in solving the problem we were having with our phones. You were very helpful and solved the problem with the greatest of ease, over the phone. Keep up the awesome job you do!"
"We so appreciate your quick response. Robert was fantastic! We were up and running before lunchtime was over! Thank you, thank you!"
"We so appreciate your quick response. Robert was fantastic! We were up and running before lunchtime was over! Thank you, thank you!"
Practice Manager, Speciality Medicine Office
"Marcus Networking has provided us with innovative solutions and creative suggestions to solve our IT problems as our business has grown. They have always responded to our calls quickly and provided 24/7…"
Staff Member, Counseling Office
"I do apologize for the late email (1:00 a.m.) but it is very important that you know, your staff are a pleasure to work with and are probably the best IT guys I have had the pleasure to work with. Many…"
Practice Manager, General Medicine
"The fabulous thing about our IT guys at Marcus is they truly are available 24/7/365 and we don't need a cell number. All you need is the help desk email, which is above, and they respond to that. Timely!"
Centralize Your Billing, CRM, and Service Desk in Autotask PSA
Looking to unify people, process, and data? Autotask PSA is perfect for that
Other Recommended Products
Remote Management and Monitoring (RMM)
Manage, monitor and support clients remotely
Unified Continuity Solution
Backup and restore data with our customizable flagship solution of multiple product combinations
WiFi
Deploy, manage and monitor wireless networks